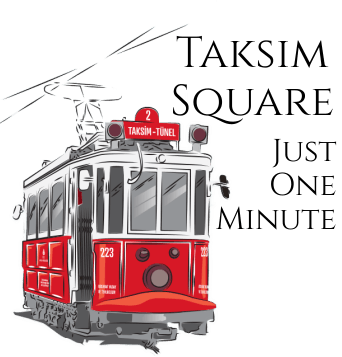 We are  offers excellent connections with the entire city via the metro system and just one minute walking distance from the conference centres of Istanbul. Centrally located, near the modern hub of Taksim Square.
Taksim is Istanbul's center of unlimited entertainment with its restaurants, bars, night clubs and stores & shops. It offers you non-stop amusement and fun throughout your accomodation. With numerous restaurants and cafes that appeals to different tastes and budgets, it is guaranteed to please everyone.
It is also the heart of cultural activities of Istanbul including concerts, theaters, operas and any kind of arts exhbitions and a perfect choice, too, for those who seek a calmer entertainment. In addition, there are many stores in the Taksim Square where guests can find both the high fashion brands and unique pieces for inexpensive prices.
Istiklal Street of Taksim / Beyoglu region offers you a nostalgic atmosphere with its tramline, one of the world's oldest subways. It is a pleasure to walk through the street along the tramline and it is worth visiting the nearby churches and monuments of Taksim.
Attraction Points
---
Taksim Square, 320m
Istiklal Avenue, 480m
Ataturk Cultural Center, 480m
Cicek Pasaji, 640m
Hilton Convention Center, 700m
Istanbul Technical University, 800m
Vodafone Arena Stadium, 800m
Lutfi Kirdar Convention Center, 1km
Dolmabahce Palace, 1,2km
Istanbul Modern Art Museum, 1,2km
Galata Whirling Dervish Hall, 1,4km
Galata Tower, 1,7km
Yildiz Palace, 2,5km
Galata Bridge, 2,5km
Cevahir Shopping Mall, 2,7km
Spice Bazaar, 2,7km
Orient Express Railway Station, 2,7km
Old Ali Sami Yen Stadium, 3km
Suleymaniye Mosque, 3km
Zeyrek Mosque, 3,2km
Istanbul Archaelogy Museum, 3,2km
City Centre Istanbul, 3,3km
Beyazit Tower, 3,3km
Gulhane Park, 3,3km
Valens Aqueduct, 3,5km
Istanbul University, 3,5km
Beyazit Mosque, 3,6km
Column of Constantine, 3,6km
Fatih Mosque, 3,6km
Topkapi Palace, 3,6km
Palace of the Porphyrogenitus, 3,6km
Ortakoy Mosque, 3,6km
Grand Bazaar, 3,8km
Turkish and Islamic Museum, 3,8km
Blue Mosque, 3,8km
Halic Congress Center, 3,8km
Mosaic Museum, 4km
Turk Telekom Arena Stadium, 7km
Atatürk International Airport, 15,9km
Sabiha Gökçen Airport , 31,6km